G. Joseph Gallinghouse, M.D.
I'm an electrician for your heart. When your heart has an electrical malfunction, I correct it. The procedures I use are highly technical, but my priority is just to make your heart work the way it should. I'm not saying electrophysiology is simple. But I promise you'll understand what I'm doing and why.
Joseph Gallinghouse chose electrophysiology as his specialty because its technical complexity has real-life applications and relevance. Dr. Gallinghouse sees his work in terms of changing people's lives immediately and substantially.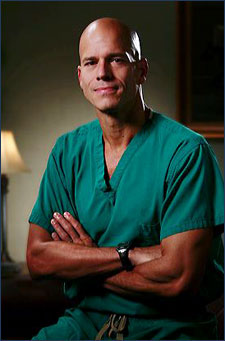 Dr. Gallinghouse is known worldwide for achieving successful outcomes in even the most challenging cases. He completed advanced fellowships at two of the most respected medical schools: Baylor College of Medicine and University of California, San Francisco. At UCSF, he worked with Dr. Melvin Scheinman, who first used ablation for the treatment of abnormal heart rhythms—one of today's most advanced electrophysiological procedures.
Dr. Gallinghouse has published many academic and research papers. At Baylor, he received the highly regarded Richard Van Reet Award for Outstanding Cardiology Fellow. He has also held the prestigious Bugher and Merck fellowships. Dr. Gallinghouse has taught electrophysiology at respected international institutions. But his primary focus is his personal involvement with his patients. Making the difference is what makes Joseph Gallinghouse the exceptional physician he is.
Education
M.D., Louisiana State University School of Medicine, New Orleans, LA
Residency (Internal Medicine), Ochsner Medical Institutions, New Orleans, LA
Fellowship (Cardiology), Baylor College of Medicine, Houston, TX
Bugher Fellow (Molecular Cardiology), Baylor College of Medicine
Fellowship (Cardiac Electrophysiology), University of California, San Francisco
Recognition
Honorary

NASPE

Leonard J. Horowitz Fellowship
Richard Van Reet Award for Outstanding Cardiology Fellow, Baylor College of Medicine
Housestaff of the Year, Ochsner Medical Institutions
Lange Award for Outstanding Scholarship, Louisiana State University School of Medicine
Past President, Ochsner Housestaff Association
Alpha Omega Alpha National Honor Medical Society
Board Certification
American Board of Internal Medicine (Internal Medicine, Cardiovascular Disease and Clinical Cardiac Electrophysiology)
Memberships
American Heart Association
Heart Rhythm Society
American College of Physicians
Travis County Medical Society
Texas Medical Association