Our Physicians
Your Heart. Your Team. Your TCA.
Dr. Senthil Thambidorai
Years of medical training and practice, innovative technology, improvements in care delivery… nothing still beats the happiness that comes when a patient feels better after a successful outcome. The patient is at the core of it all and helping them get to their desired results is what I strive for.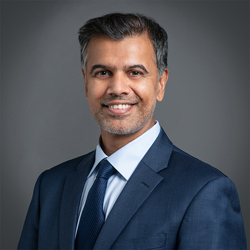 Dr. Senthil Thambidorai's primary expertise is in Cardiac Electrophysiology. He trained at the Cleveland Clinic, Ohio where he also served as the Chief Cardiac Electrophysiology Fellow after completing his training. Cleveland Clinic's heart program has ranked as the best in the nation (since 1994), earning the No.1 ranking in the U.S. News & World Report's Best Hospitals for Cardiac Services. He then moved to Texas and joined the University of Texas, Houston as an Assistant Professor in Cardiac Electrophysiology. He practiced at the Memorial Hermann, Texas Medical Center, Heart and Vascular Institute in Houston prior to his move to Fort Worth in 2014.
Dr.Thambidorai currently serves as the Regional Director of Electrophysiology-HCA North Texas. He is also the Program Director of the Cardiovascular Fellowship Program at Medical City Fort Worth and Assistant Professor at the TCU UNT School of Medicine, training the next generation of doctors. Dr. Thambidorai worked as a Cardiologist at the Cleveland Clinic prior to his Cardiac Electrophysiology training. In addition, he completed an Echocardiography research fellowship at the Cleveland Clinic.
Dr. Thambidorai has first authored and co-authored several publications in peer reviewed journals, book contributions, and has presented over twenty times at scientific meetings and conferences. He is a member of the American College of Cardiology, American Heart Association, Heart Rhythm Society, and Heart Failure Society of America.
Dr. Thambidorai completed his Internal Medicine Residency and Cardiology Fellowship at Creighton University, Nebraska. He has also served as Chief Resident at the Veteran's Health Administration in Nebraska and Chief Cardiology Fellow at Creighton University.
Dr. Thambidorai has been a pioneer in bringing new technology for the care of his patients in Fort Worth and takes pride in providing world class, cutting edge and innovative patient care. Dr.Thambidorai has accomplished many 'firsts' in Fort Worth including the first Left Atrial Appendage occlusion first leadless pacemaker reducing Xray exposure for patients during procedures (https://medicalcityhealthcare.com/about/newsroom/new-heart-device-reduces-radiation-exposure-for-patients?location=medical-city-fort-worth) and continues to strive to provide the best care for his patients. He practices in Fort Worth and San Angelo.