TCA

. World leadership
deep in the heart of Texas.
A heart out of rhythm needs special care. People from around the world come to Texas Cardiac Arrhythmia for treatment of the most challenging atrial and ventricular heartbeat disorders.
At Texas Cardiac Arrhythmia our specially-trained cardiac electrophysiologists have the expertise to provide care for your condition. Access to physicians whose skill, knowledge and experience makes a critical difference in the lives of thousands of people.
Texas Cardiac Arrhythmia continues to be the leader in all aspects of cardiac electrophysiology.
Your heart health and well-being is our number one priority.
We believe the most important aspects of providing quality care are listening to the needs of our patients and involving the patient in the overall treatment plan.
We will LISTEN and GUIDE you down the best path of health at Texas Cardiac Arrhythmia.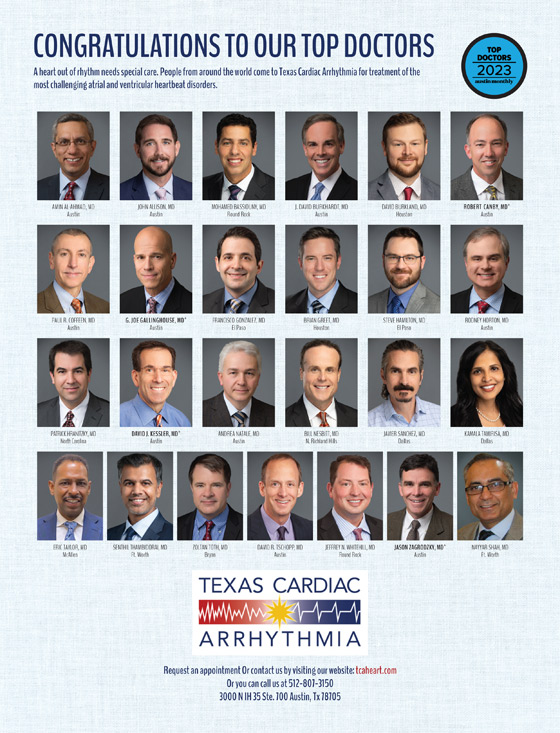 June 26. 2023
To my Valued Patients,
Thank you for allowing me the opportunity and privilege of taking care of your cardiac needs.  I am writing to inform you that I will be moving my practice location on July 30, 2023.  I will be joining Ascension Texas Cardiovascular here in central Austin and I anticipate seeing patients there in late August or early September.
My new practice address will be 1004 West 32nd St, Suite 300, Austin, Texas 78705.  My new office number will be (512) 324-3440.  The new fax number will be (512) 406-6513.  Should you wish to allow me continued access to your records, a release of information form is enclosed for your convenience. If you have a scheduled appointment to see me in the future, please call the new office number to reschedule.  If you need a prescription refill, please provide your pharmacy with our new fax number.
I appreciate the support and trust you have given me over the past years and I look forward to continually improving the quality of care and the value of the patient experience with this move to our new location. We will continue to provide the same clinical services.  We will continue to provide on-site echoes as well as nuclear scans, stress and vascular testing.
If, during this transition, you find it difficult to reach me, my email is Advancedheartcenter@gmail.com or you may continue to call us at (512) 279-0990.  I look forward to seeing you in our new office!
Sincerely,
Mary Beth Cishek, MD