Austin Monthly Top Doctors 2021
25 November 2020
---
Medical Education WebEx with Dr. Mohamed Bassiouny
24 July 2020
---
Education For Heart Patients During COVID-19 With The American Heart Association
06 June 2020
---
Texas Cardiac Arrhythmia Institute at St. David's Healthcare Reaffirms its Use of Abbott's ID NOW COVID-19 Rapid Test
28 May 2020
---
---
25 December 2019
Symptoms of 'holiday heart'
Dr. Al-Ahmad featured on FOX 7 – Click Here for Article 
---
28 October 2019
AFib increases risk of developing dementia, study says
Dr. Al-Ahmad featured on KVUE – Click Here for Article 
---
12 April 2019
CycleNation
CycleNation is more than a program – it's an active movement empowering people to get brain and heart healthy through cycling, while raising funds to continue vital community programs and support research to eradicate stroke. Last year, the American Heart Association and American Stroke Association (AHA/ASA) funded nearly 1,000 new research projects. It's fundraisers like you who help us fund more groundbreaking research aimed at better prevention, diagnosis and treatment.
During the 1st annual CycleNation Austin on July 27th, 2019 more than 100 riders raised nearly $60,000 for heart and stroke research. The afternoon was filled with heartfelt stories from two stroke survivors, CPR training and various activities to work the body and mind, and of course the ride as we cycled to further the mission of the AHA.
This event would not have been possible without the support and guidance of Co-Chair's Robert and Kaki John! A special thank you to Presenting Sponsor Abbott and to other top sponsors KXAN, Texas Cardiac Arrhythmia, and ARM as well as media partners Austin Fit and KXAN.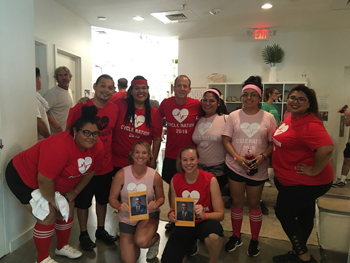 ---
12 April 2019
Could The Keto Diet Lead To A Bad Heart Rhythm?
Low-carb diets such as the keto diet or the paleo, Atkins or South Beach diets are known for fast weight loss as people decrease carbs — and often increase fats.
---
27 March 2018
EPLive 2018
The Texas Cardiac Arrhythmia Institute (TCAI) at St. David's Medical Center hosted its fourth international symposium on complex arrhythmias, EPLive 2018, in March. Nearly 200 leaders in the field of electrophysiology (EP) from Europe, Asia and Latin America, as well as experts from across the United States, attended the two-day educational conference in Austin, Texas. EPLive 2018 used live and recorded cases with expert commentary as the primary teaching tool to educate attendees about complex arrhythmias—a condition in which the heart beats with an irregular or abnormal rhythm.
---
9 March 2018
KXAN Features CardioInsight Vest
High-tech vests creates 3-D heart map, locates abnormal heartbeats
---
1 March 2018
Austin American-Statesman – Amy Simmons And Her Heart Condition
Amy's Ice Creams founder hopes health scare can help others.
---
1 March 2018
KVUE's Tech Tuesday Features Dr. Horton
Tech Tuesday: A heart monitor you can check on your smartphone
The device is inserted in a patient's chest and then "will automatically communicate wirelessly to a receiver." In this case, it's connected to an app on your smart phone.
---
14 February 2018
St. David's Round Rock Medical Center Opens Heart Arrhythmia Lab
Heart rhythm disorders patients can receive world-renowned care close to home with the opening of a $3 million electrophysiology lab.
---
6 September 2017
St. David's Featured In Austin Monthly
St. David's featured in Austin Monthly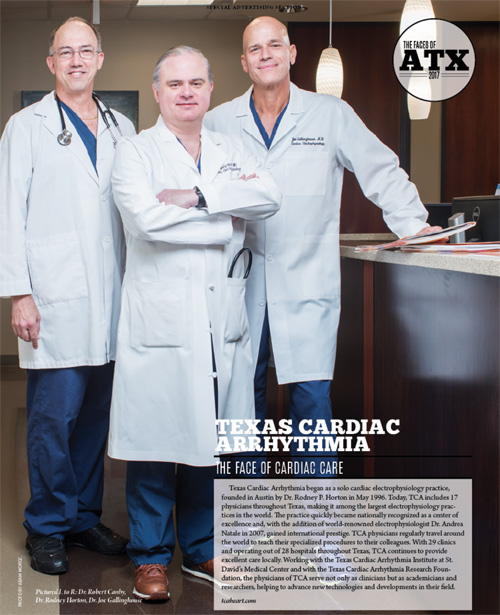 ---
11 April 2017
St. David's Doctors Using New Cardiac Mapping Tool
Visit the News Story at Fox 7 – Click Here
---
24 August 2016
Dr. Canby talks about new, smaller pacemaker. Dr. Al-Ahmad talks about Atrial Fibrillation.
Visit the News Story at KXAN – Click Here
---
18 JUne 2015
Haiti longhorns
Visit the News Story at KXAN – Click Here
After the Haitian earthquake in 2010, I traveled to Leogane, Haiti to help with emergency medical services in a field hospital established by Intervol, a Rochester, NY non-profit dedicated to medical aid to Haiti. Since that time, I have organized medical teams each year to participate in mobile clinics that support local Haitian healthcare facilities, Klinik Lasante and Hospital St. Croix. In 2011, Dr. Bailey joined me on his first trip to Haiti.
This year Dr. Bailey and I returned with a team of 17 volunteers – 4 medical doctors (OB/GYN, internal medicine, family practice and cardiology), 4 midlevel providers (cardiology and GI), 2 pharmacists, 4 nurses, 1 field tech, and two students. Over one week we saw 1281 patients at nine different remote clinical sites. We traveled to Troun, Cormier, Duclo, Petite Riviere, Dufort, Dessources, Destra, Bossan and a parish clinic in Leogane. We treated filariasis, dehydration, hypertension, URI, STI, COPD, diabetes, skin infections, GI complaints, eye infections, pneumonia, and wound abscesses. We distributed over 700 pairs of reading glasses and sunglasses. Additionally, we hired a Haitian dentist to join us providing dental care to many for the very first time.
We also referred critically ill patients to Hospital St. Croix and chronically ill patients to Klinik Lasante. We transferred one gentleman from a remote fishing village who was injured in a diving accident. He makes his living collecting conch from the bottom of the ocean. Luckily, he is alive thanks to the medical care we funded at the hospital. The fee for his care at the hospital was $150 for a two-day hospital stay. We also referred over 25 people to a surgical team that comes to Leogane a week after we leave. They will treat breast cancer, hernias, hydrocele, and other unexplained masses.
We provide care and financial support to an orphanage as well. This year we gave each child a UT Longhorn T-shirt. We are from Austin, after all.
Each volunteer self-funds their personal travel expenses and we raise money as a team to purchase medications and supplies. We hand-carried over 900 pounds of medicine and supplies in suitcases. We plan on returning next year.